Duck Creek Policy
End-to-end policy lifecycle administration for building,
delivering, and servicing innovative products that delight
your customers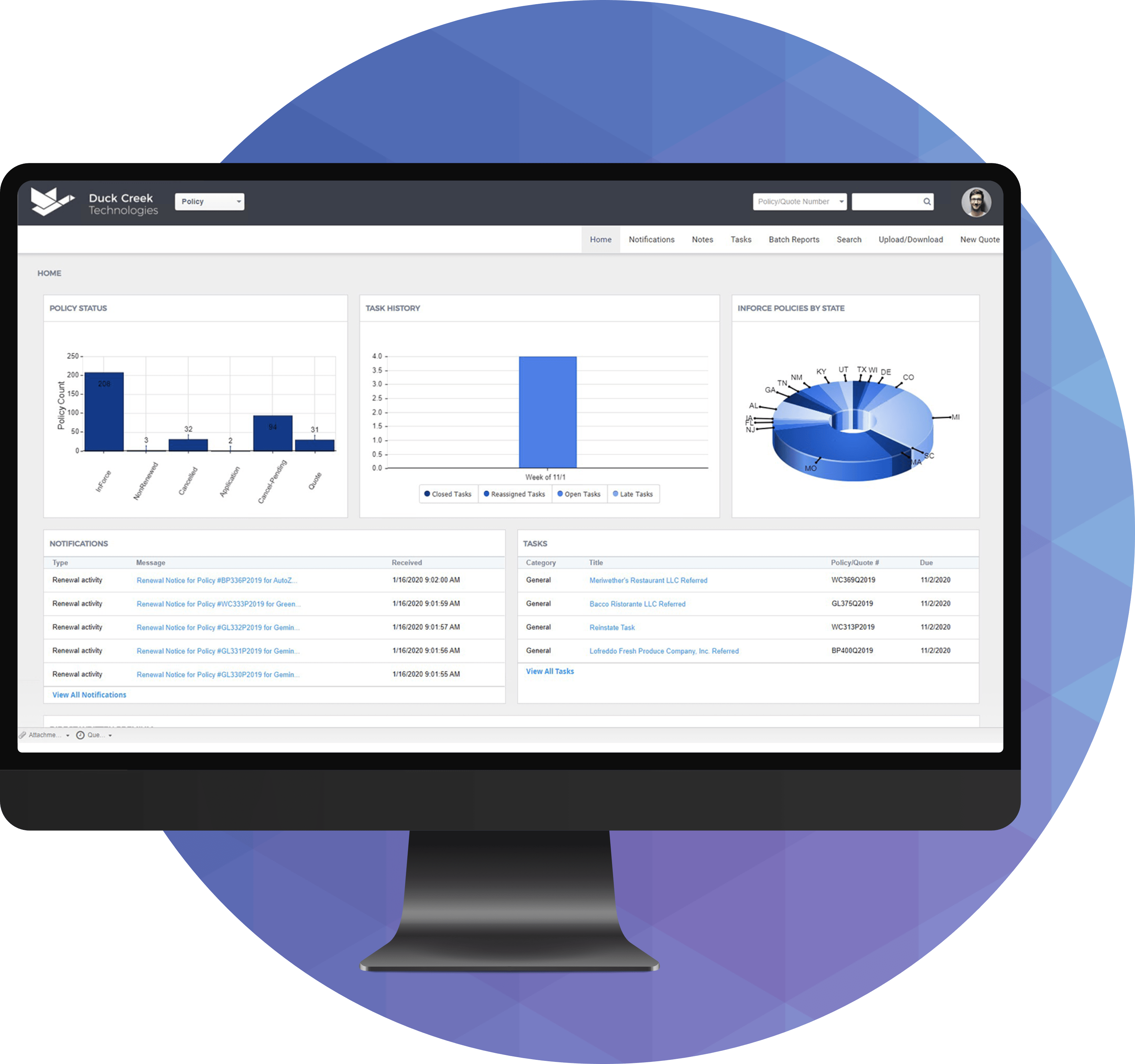 Delight Insureds with Innovative Insurance Product Solutions
Duck Creek Policy enables P&C carriers to deliver insurance products at scale in an era of rapid, customer-centric innovation and growth. Policy supports the full policy lifecycle process with automation and workflow management capabilities, an integrated development environment for insurance products, and pre-built content, so that carriers can go to market faster, increase operational efficiencies, and improve customer satisfaction – built using low-code tools and delivered in a SaaS model.
A Trusted and Reliable SaaS Policy System
50K+
Number of transactions processed in a day
5
Seconds to produce tailored quotes; in-force policies in 5 minutes
90
Days to deploy an initial line of business
70%
Reduction in time to update rates and factors
End to End Policy Lifecycle
Quote
Underwrite
New Business
Endorse
Audit
Renew
Cancel
Reissue
Featured Integrations
Our comprehensive partner ecosystem features a number of integrations to technology providers who specialize in solving different use cases throughout the policy administration lifecycle.
Customer satisfaction continues to be a key driver of our business, and Duck Creek's industry expertise and advanced technology will help us deliver the exceptional service our customers expect. Every company knows that the future will continue to present more technology risks. Through this recent modernization, we're better prepared to take advantage of the latest innovations and digital disrupters.
Delivering innovative products and services to our customers and agents is what drives us. Duck Creek is aligned with the business direction we are pursuing, and offers the configuration, product design, and rating engine we feel is best able to handle our needs now and in the years to come.
Expand Your Value with More Duck Creek Products